Table of Contents
FSB Guide Test
Editors notes
This guide is started by Dave and is currently under construction!
Please post your notes here!
We can use info from this Guide to Forex Strategy Builder.
Forum topic for commenting and discussion about this guide Writing Guide to FSB.
Content
Download and Installation
Go to the Download page and you will see a box for Forex Strategy Builder, click in there and the program will download to your machine and be ready for installation which is quite simple.
As you install the program, allow the program to make choices for you so that the next install will go to the right place. Full FSB Installation Guide.
An icon will be placed on your desktop and the program will be ready to use as soon as the install is completed.
Historical Data
Before you start to use the program you will need to download some current data for the security or currency pair(s) that you wish to trade.
You have a choice of using jForex (Dukascopy) or Metatrader 4 data. Many people like the jForex data and the Forex Strategy Builder software has been designed to allow easy importation of the jForex data.
You will have to open a Demo account at jForex and then proceed to download whatever data you wish to work with.
Should you choose to use Metatrader data you will have to download the data from your Metatrader program. (done by clicking ctrl-S on each chart for which you need data.) See a detailed guide her: Import MetaTrader4 HST Files
Account and Market Settings
Now that you have your data you will have to ensure that you set up FSB properly with regard to the specifics of your data, the contract size, the spread, the slippage, and most importantly…… the number of digits of the various securities you will be working with. This deserves serious attention as the contract specifics determine the outcome of your expert adviser computations. These items can be found under the 'Market' tab on FSB
Next………… the Account Tab…… here you will find the amount of your account, the currency, and the leverage…. This section has to be correct as it influences the amounts in the computations. It is no fun spending hours configuring an expert adviser only to realize that you have bad inputs in the 'Account' tab or the 'Market' tab.
Further information can be found in this User Manual. It will be to your advantage to read everything available so that you gain familiarity with this excellent software and its abilities.
Indicator Slots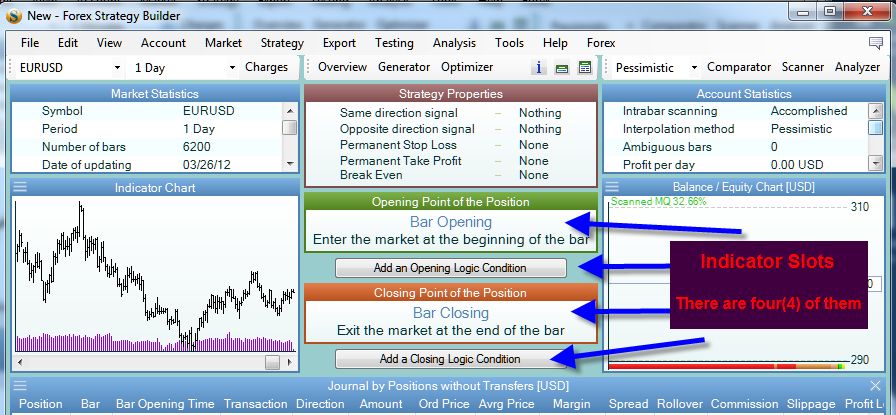 Indicator slots are what Forex Strategy Builder works with to generate a trading system. The user can select various indicators within each slot and that combination can be configured for the eventual trading robot.
Each indicator has configurable parameters which are automatically optimized by the generator or the optimizer, depending on which mode is being used.
There is a feature which allows you to preset the indicator and 'Lock' it so that the parameters will not be changed by the generator.
As you will see, there is quite a variety of indicators in each slot, and many parameters which are optimized by the generator as it develops a trading strategy.
As the user gains experience using Forex Strategy Builder he/she will get to understand which indicators and settings he /she prefers to use in each of the four Indicator Slots.
Here is a view showing what is available once you click on an indicator slot, a selection of indicators that can be preset and selected and included in your robot.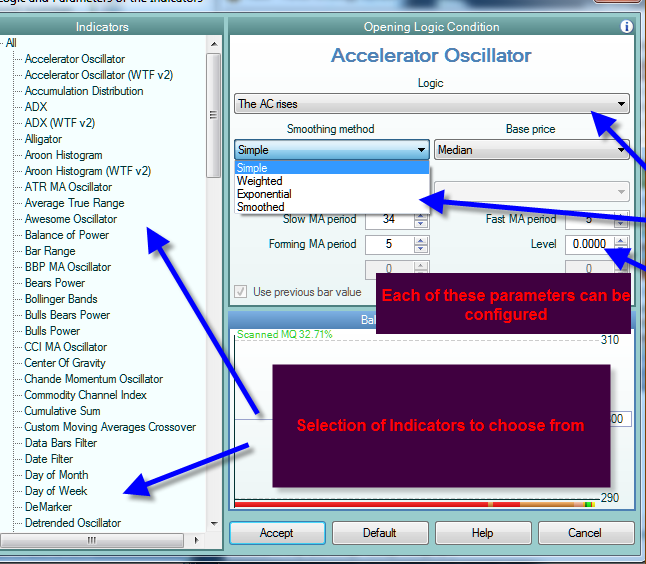 You cen read more about indicator slots here: Indicator Slots.
It is well worth your time to experiment with each of these indicators and to learn as to what they can or cannot do. When you become puzzled, you can put a question in the forum and will receive some assistance.
Some users have been working at developing additional indicators and you will be able to read of those in the forum.
The indicators slots are most important for the beneficial use of Forex Strategy Builder
Indicators selected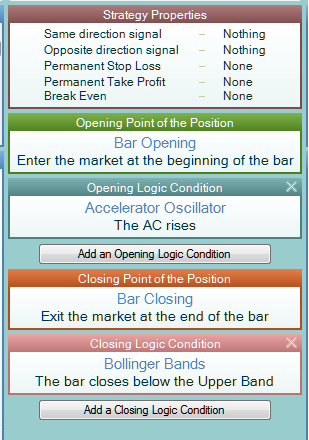 Testing a Strategy on a Demo Account
Once the strategy has been developed or generated, you will want to test its profitability on a demo account in real time.
For that purpose we can use Forex Strategy Trader which is the link between Forex Strategy Builder and Metatrader 4 You can download Forex Stategy Trader here.
Let's get the new strategy operational in Metatrader now.
First, the new strategy has to be saved to a directory so that it is accessible to FST.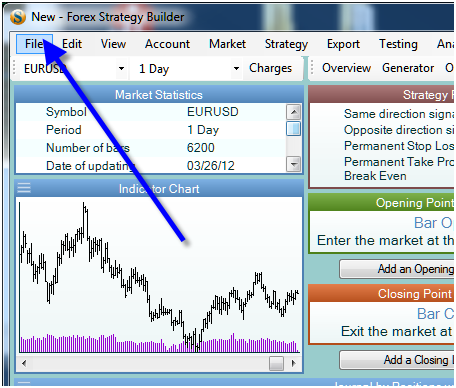 Under 'File' is 'save as', use a unique name for your strategy….. it will be saved in the FSB 'Strategies' folder.
Next step is to open FST, click on "file", then click on 'Open' and you will see a selection of Strategies, open the one you have saved. You will have to assign a 'connection ID' next. You will see in the illustration the name of the strategy and the connection ID.

Next step will be to prepare Metatrader to receive trading signals. Select the security and time frame you wish to trade. When you installed FST, it automatically placed in the EA folder an EA to provide a link between FST and Metatrader.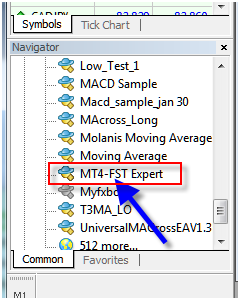 Click on that………..
And this opens up –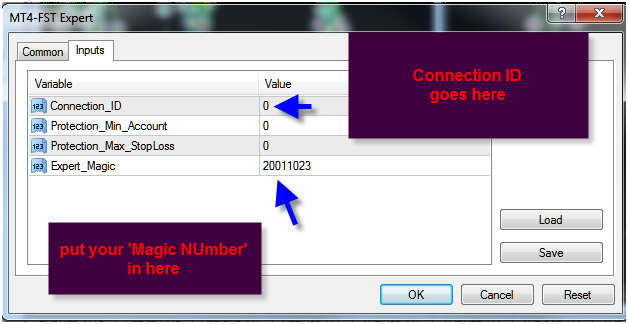 Be sure to complete Connection ID the same as you have in Forex Strategy Trader. Click on OK and you will see the EA on your chart and you will see as follows in FST and Metatrader: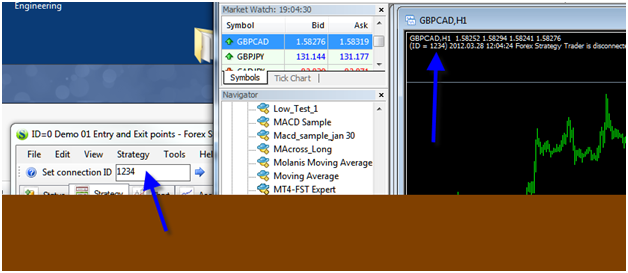 The connection has not been made….. click on the Connection ID in FST and hit 'enter' and the connection will be made, Click on 'Start Automatic Execution' and the FST will start to send signals to Metatrader.
There are many features in Forex Strategy Trader, take the necessary time to explore each one as there is valuable information stored in there as it trades.