Topic: Resolve Correlations - unexpected behaviour
Hi,
please take a look at this situation in the following images. The best strategy in the collection sorting it by "Return/Drawdown" is a correlated strategy (pink background). The issue is when I hit the button "Resolve correlations", as the first strategy is a correlated one, it is removed from the collection. But it was the best one! (it has the best Return/Drawdown ratio, and it is better than the strategy that now is in first place). I feel the "resolve correlations" button should have removed the other strategies the first one was correlated with, instead of the best strategy in the collection. Am I missing something here?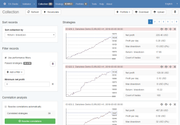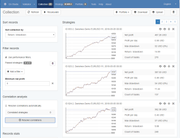 Please, also take into account that this situation might be also present when we have the "resolve correlations automatically" checked. If that is the case, a better strategy might automatically be removed in Reactor when another (it could be worse) strategy (correlated with the first) appears in the collection (=passes the acceptance criteria).
Thanks a lot for having a look at this.
Warmest regards
RJ