Re: EA Studio - News and updates
Hello Traders,
We have a new version of EA Studio uploaded.
It comes with one new feature and behaviour changed.
In the Collection and Portfolio Content:
* Recalculate works in the background, and we can leave the page without losing strategies.
* When we Stop a calculation in progress, it doesn't cut off the rest of the strategies but pushes them back as they were before the recalculation.
With these new features, we never lose strategies when we Stop or cancel the recalculation.
Please note it is completely possible that the calculation on newer data to make some strategies correlated or loosing. The Collection filters can remove such strategies.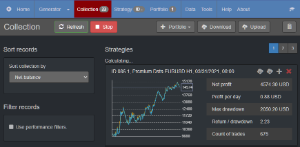 We still have some work to polish the new behaviour. Please don't change settings or upload new data during the Collection work because it will deteriorate the results. We will add some protections for that in the next releases.
Please report all issues.
Trade Safe!