Topic: Acceptance Criteria for the Optimizer - Development
Optimizer has own Acceptance Criteria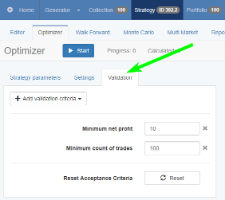 All found strategies by the Optimizer fulfill the selected criteria.
If OOS is "In sample" (which means no OOS is used), the Optimizer validates the complete backtest.
If you use OOS, the Optimizer validates only the in sample part of the backtest.
If you use optimization with OOS in the Reactor, you can easily validate the complete backtest by switching on some of the other validation tools. For example, you can switch on the Multi Market Validation with the current market only. If you do so, you can even have a different version of the validation criteria for the complete backtest.