Topic: Proof that too much historical data is harmful...
I recently posted about the importance of optimizing using only recent data. Other than DoCZero it didn't generate much interest. Here's the link:
https://forexsb.com/forum/topic/7458/optimize-using-recent-data/
I am deeply indebted to Popov and this forum. His software totally changed my forex experience and I've learned a ton from a handful of people on this forum. So I've decided to try one last time, and then I will give it a rest. I chose a more controversial title hoping more people would be curious.
Below I present 3 charts that demonstrate why using too much historical actually leads to poor results. If you are inclined, you can readily reproduce this observation for yourself -- it might take 2 minutes, perhaps less.
I have a few hundred strategies and chose one at random -- there is nothing special about it. It was designed for EURUSD/H1.
IMAGE #1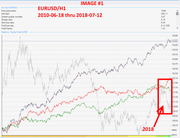 IMAGE #2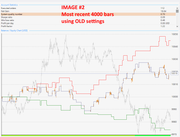 IMAGE #3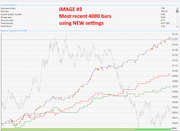 IMAGE #1 -- shows the strategy optimized against 50,000 bars -- i.e. approximately 8 years of historical data. From the stats you can see it's not so bad, and not so good. It has a WinRatio of 0.54, a SQN or 3.67 and ProfitFactor of 1.32. In the lower right-hand corner I've drawn a red square around the price chart for 2018. You can see that same price pattern in IMAGE #2 and IMAGE #3.
IMAGE #2 -- the exact SAME strategy and settings as IMAGE #1. However, this chart only shows the most recent 4000 bars (approximately 8 months). Unless you have a time machine and could travel back in time, it would be foolish to add this strategy to a Real account in 2018. But this is what many people do and then wonder why the strategy performs poorly compared to what they expected from IMAGE #1.
IMAGE #3 -- the same strategy, but it has been re-optimized using the most recent 4000 bars (approximately 8 months). The strategies in IMAGE #2 and IMAGE #3 are the same -- they differ in that IMAGE #2 uses settings calculated over 8 years, whereas IMAGE #3 uses settings calculated over the most recent 8 months.
Let's compare: IMAGE #2: WinRatio: 0.48
SQN: 0.70
Profit Factor: 1.22

IMAGE #3: WinRatio: 0.77
SQN: 5.64
Profit Factor: 3.39

Those of you who would still trade the strategy from IMAGE #2 in a Real account in 2018 please raise your hand. I wish you luck -- you will need a lot of it if you plan to succeed in trading forex.
Here's an analogy -- suppose I have a glass of lemonade and poor it into a lake. Does the lake now taste like lemonade? Of course not -- the lemonade got diluted by the larger body of water. This is similar to what happens when you mix a little bit of new data with a lot of old data -- the new data gets diluted. Since we trade in present time then it makes no sense to dilute the recent data. The recent data is your friend.
I imagine many people think that by using more data their strategy becomes "smarter" -- i.e. learns more patterns. This is definitely not true. Our strategies do not learn. This is not AI -- there is no database backing our strategies. The optimization step performs a one-time computation using the input data you provide. The settings that it computes stick with the strategy throughout its lifetime (until you "refresh" or re-optimize).
I'm sure a number of people have nice looking Balance / Equity curves that span several years, or even longer. But they are misleading -- your computer screen doesn't have enough resolution to see all the peaks and valleys. What you see on your screen is from 30,000 feet high. If you were to zoom-in you would see many peaks and valleys, and some of those valleys could last weeks or months. Why would anyone voluntarily choose to trade a strategy that loses for weeks and months?
Okay -- I've made my peace.