Topic: Day Opening Indicator Issue??
All,
As one may note in the image below, I have an EA that uses Day Opening price. The EA prints out as a comment the various indicator values. But for Day Opening, it is commenting 0.0000.
Does Day Opening only show a non zero number at the day opening? Or is something wrong with the indicator/EA?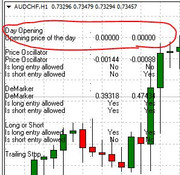 Samuel