trading:al-brooks-failure-failed-failure
Al Brooks: Failure and Failed Failure
These two trading set ups are one of the best. Their biggest advantage is that there are always trapped traders that must cover their positions or chase the market. This way they accelerate the price move and give you a quick and nice profit. The "problem"with the Failure and Failed failure is that you must have some kind of contrarian thinking, but you can solve it easily.
Failure - A move where the protective stop is hit before a scalper's profit is secured or before the trader's objective is reached, usually leading to a move in the opposite direction as trapped traders are forced to exit at a loss. Currently, a scalper's target in the Emini of 4 ticks requires a 6-tick move, and a target in the QQQQ of ten ticks requires a 12 cent move.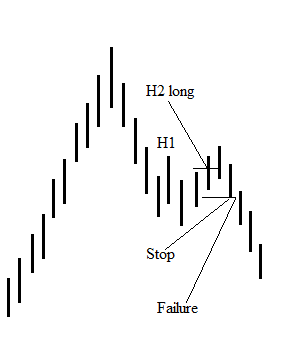 Failed Failure - A failure that fails, resuming in the direction of the original breakout. Since it is a second signal, it is more reliable.