partners:ea-studio-b2b-solution
Table of Contents
Expert Advisor Studio - Business to Business Solution
https://forexsb.com/expert-advisor-studio
Expert Advisor Studio (EA Studio) is the world's only cloud based platform with a visual Strategy Editor, Forex backtester and automated strategy generator for MT4 and MT5 Expert Advisors. It uses its own proven technology invented by Forex Software Ltd. ( https://forexsb.com ). The technology was patented in 2006.
EA Studio is designed to be seamlessly integrated in Forex related websites with minimal efforts, zero maintenance and running costs.
How is EA Studio Great for Your Business?
Your online online visitors spend more time on your website because they work, study or just play with the application.

Your traders like your services more and price your company higher because you provide a unique new experience.

They create their own trading systems and export Expert Advisors directly from your website and return for more.

The traders use more your MT terminals because they are more confident with the experts tested, optimized and analyzed for historical data and market conditions you provide.
How is EA Studio Great for Your Trading Visitors?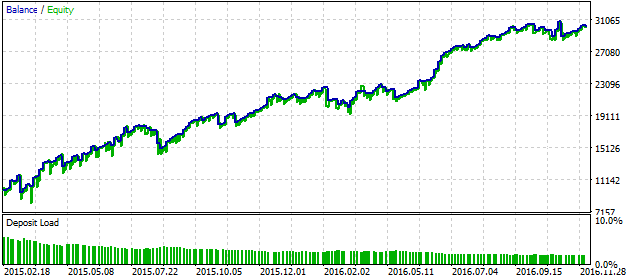 now, they can receive it easily with the help of EA Studio for any market they want.
Both a veteran and a newbie trader can create, test and analyze strategies without programming and without in-depth knowledge for technical indicators.

As a trader sees how his own trading system behaves on real historical data. As the trader sees how a change of an indicator parameter or a trading rule reflects on the backtest, he or she will become more confident and in turn will trade more.

The traders won't need to buy black box Expert Advisors anymore. There are no secrets and hacks. EA Studio provides easy and clear access to all trading rules and backtest results.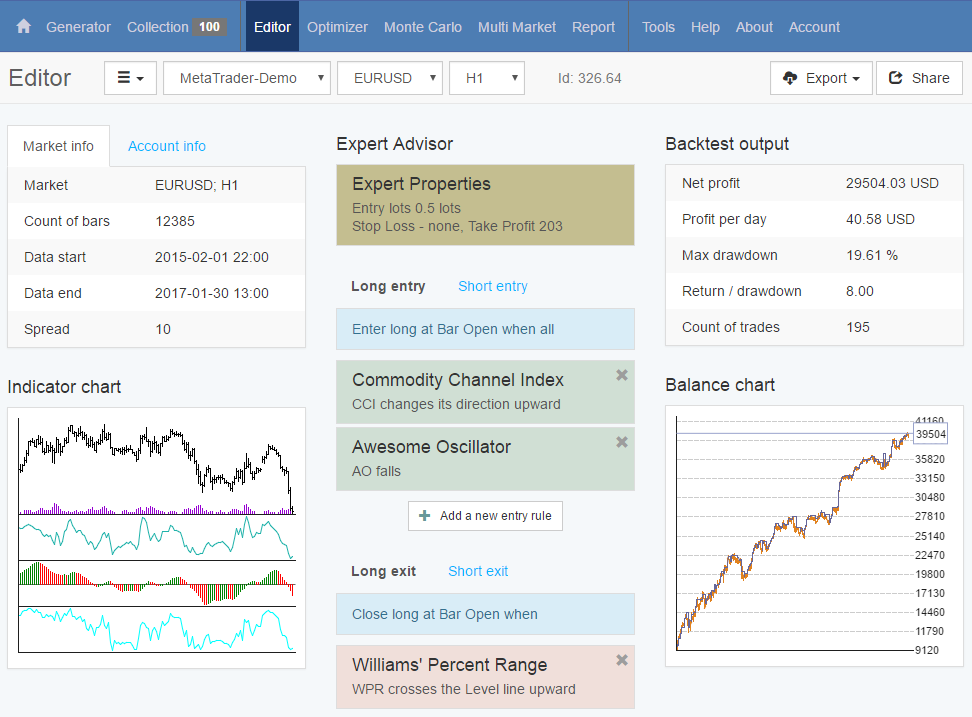 The traders have full control over their strategies. They can download the strategies in Collections or to export Expert Advisors for testing and trading. They can also re-import an Expert back into EA Studio for reevaluation and improvements.

There are no Expert Advisor export limits. The traders can test and export as many Expert Advisors as they want.

The traders receive a clean and tidy MQL code in each exported Expert Advisor. No errors. No warnings.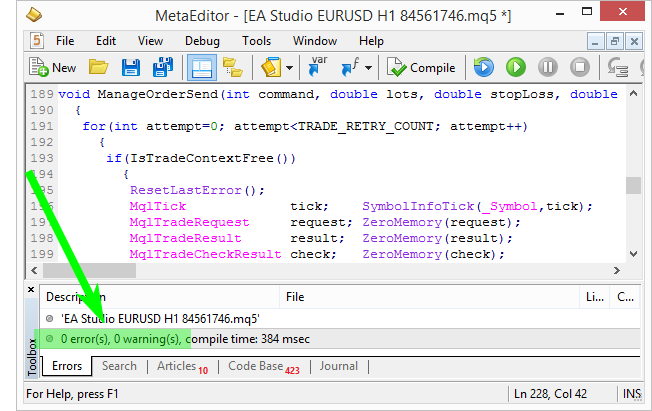 What is in EA Studio?
Quick & Automatic Strategy Generator - When the trader opens the app, the first thing he or she sees is a simple screen that reveals the the great power behind our technology – the Generator. The trader selects a market and clicks on "Start". This is enough to create a trading system tested on real historical data. The Generator uses logically correct strategy "blocks" and real-time backtesting to come up with historically profitable strategies.
With the Generator the trader can create Expert Advisors for a market of their choice. The App allows to set the trading amount, the Stop Loss and the Take Profit usage and limits. The trader can also choose the technical indicators that the Generator can use. The more advanced traders can select the search goal (example. Highest Net Balance or Return/drawdown). The Generator has also Out Of Sample settings the trader can operate with.
Strategy Collection - The Generator creates up to 5 000 strategies per minute. Each strategy is evaluated, filtered and sorted. The best strategies are stored in the "Collection" tool. The Collection allows the trader to further review, sort, re-evaluate and export the stored strategies.
Visual Editor - In the Editor the traders can review and manually change the each of the generated strategies. The strategy Editor is completely visual, meaning it requires no programming skill at all. In the Editor all trading rules and backtesting stats are easy to see. Here the trader can easily export their trading strategy as an MT4 or MT5 Expert Advisor. Each Expert Advisor has a clean and error-free code.
Optimizer - The Optimizer is a very powerful tool. It optimizes all indicator's numeric parameters to find the best values. The optimization takes usually only a few seconds.
Monte Carlo - Monte Carlo is one of the most important tools for evaluating the robustness of a strategy.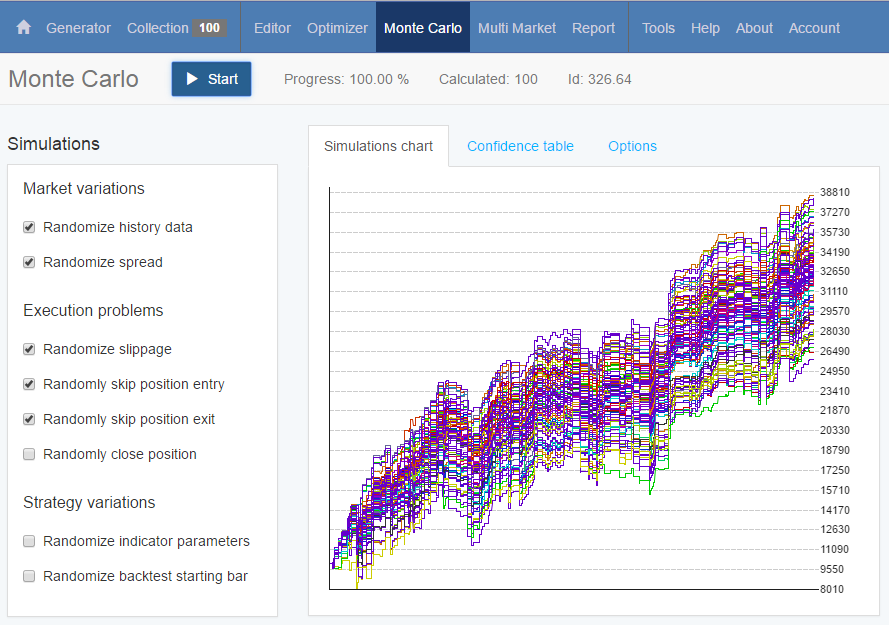 Multi Market - The Multi Market tool tests a strategy against several different markets and provides stats and charts of the backtest.
Report, Indicator and Balance Charts, Transaction Log - These tools are used for reviewing the strategy's performance.
Acceptance Criteria - The trader can set his or her own criteria for automatic strategy validation in the app's various tools.
Data Horizon - Data Horizon allows the trader to set the start and end dates of the data series. This is useful for simulating a trading process on unknown data.
Data Import - The trader can use this tool to import data and settings directly from MT.
Our Wining Strategy
We know that a single Expert can fail on a real trade. We don't care. We create a portfolio of different strategies for each market. The portfolio might include only a few strategies or even a hundred strategies. We put export the strategies as Experts and let them trade simultaneously. This is easy because of the power of EA Studio. At the end of the week (or other predefined period) we evaluate the performance of all Experts. We remove those that fail and replace them with new ones we have already created. We don't rely on a single Expert or on a single market because we are not limited by our trading systems.
We Give You the Full Power of EA Studio
By putting a a few lines of code on a page of your website you receive your own copy of the platform. All server costs and computation power are covered by us.
Business Solutions
EA Studio is suitable for placing in Forex websites, SEO and landing pages as well as in membership-only area.
The easiest way to implement it is to have it on a membership-only area where it will be available only for traders or clients with access granted by you. In this way your clients can use it without an additional account or login. The currently available purchasing page will be disabled and all traders with access to the private zone will be able to export Expert Advisors.
It is possible to have a public copy without the functionality of exporting expert advisors. The home page of the app may state that full access will be able only for traders having accounts with you.
Other possibility is to place EA Studio in a separate domain to serve the purpose of a conversion tool. The app will be available only for users that opens real accounts at you. This is a great way to convert visitors you send there to clients.
Rebranding and Customization
We provide rebranding to the application as per your needs:
Brand Name - the default brand name of the app is "EA Studio". You may request a different brand name for the app on your website.
Legal Information and Risk Disclaimer - you may provide your own content of the Legal page which will replace the default content.
Data feed - you may request feeding the Application with historical data from a MetaTrader terminal. You may request providing data from specific servers and symbols.
Export to specific MetaTrader versions - EA Studio supports export of Expert Advisors to MetaTrader version 4 and MetaTrader version 5. You may choose what versions to be supported in your White Label Application.
Locking Expert Advisors to a Specific Terminal - you may request the exported Expert Advisors to be locked for work only on your MetaTrader Terminals. (A MQL programmer can disable that.)
Account Currencies - the default Account Currencies are EUR and USD. You may request a change to the Account Currencies.
Translation - the original language of the Application is English. The Application may include additional translations provided by us. You may provide corrections to the translations. You may translate and provide the Applications' language files in additional languages for your application.
Application Help - the Application includes general help articles in English. You may provide your own help articles for the Application for expansion or replacement of the current articles. You may translate and provide Help in a different language.
Visual Customization - you may request a customization of the main colors of the application.
Terms and Conditions
We sign a contract for providing EA Studio as a service to you for a term of 1 or 3 years. We want a long-term partnership and the contract can be prolonged.
You pay a fixed monthly charge to Forex Software Ltd.
There is no price for customization and initialization. We cover all the server's computation and data feed costs.