How to Monitor FST Remotely
You can monitor your FST account and trades via Internet at http://forexsb.com/fst. This options will be useful for people that leave FST trading at home and go out. The interface was specially designed to work well on mobile phones.
To use the remote monitoring feature, you have to download the "Remote Monitoring" custom indicator. It is available for download in the forum FST Remote Monitoring.
After downloading, put the indicator in the "Custom Indicators" folder of your FST installation. After restarting FST or pressing Ctrl + I the indicator will be placed in the "Opening Logic Conditions" list.
This indicator doesn't affect the trading process. It silently sends data to the server where you can check it. This is how you add the indicator: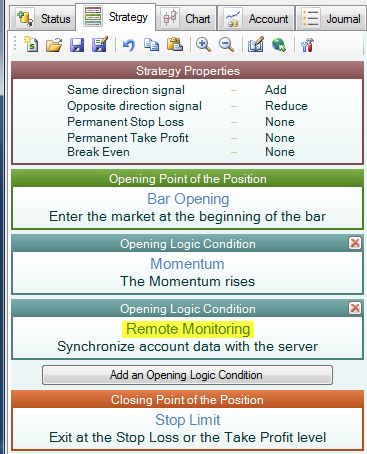 This indicator generates an unique User ID key. You need this key for identification on the server. The code is displayed in the indicator options screen.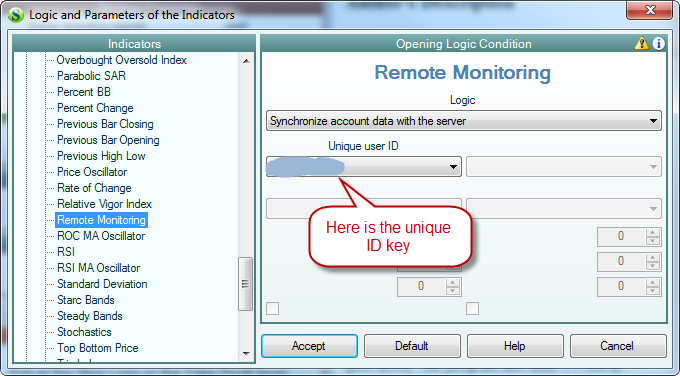 When the indicator is activated, it will start sending data to the server: http://forexsb.com/fst.
You have to login with your unique key.

Now you can monitor your MT connections and positions.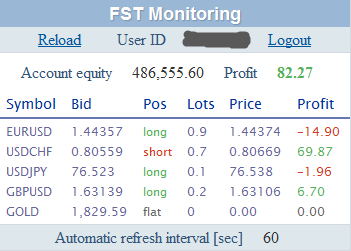 The example shows 5 active connections. A connection is considering active when it was updated in last 10 minutes.
Each Forex Strategy Trader copy sends data every 30 seconds. If your web device allows Java scripts, the web form will be automatically updated once a minute.