Trading Several Strategies
Forex Strategy Trader can load and execute only one strategy at a time. If a user wants to trade several strategies simultaneously, he/she have to use several running copies of FST and to start MT4-FST Expert expert on the corresponding MT4 charts.
Starting FST until another copy is running is prohibited by default. In order to allow it, a user have to switch on the Allow multiple working copies of FST option.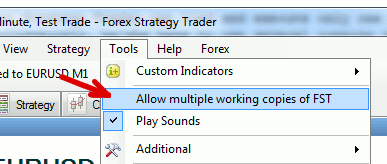 When that option is switched on, FST goes to a multi-instances mode. You can easily distinguish it by the Connection ID text box on the connection strip.