Table of Contents
Import TrueFX Data Files
Data Files Acquisition
TrueFX offers historic tick data from 2009, for 15 major currency pairs. Registration is free, and you don`t need to have live account. Accessing and downloading data is very simple, required steps are:
1. Register - http://www.truefx.com. It seams that only gmail emails works properly there !?
2. Log into your account
3. Inside Download section, You should see → Historical Tick-by-Tick Data
4. Data are splitted by year, and month. Simply download zip files for period you are interested
Data Files Import
You can use TrueFX Import tool for importing and converting the TrueFX CSV tick data files to FSB readable format.
TrueFX Import imports tick data and also compiles bar data files. The programs saves the compiled bar files if they contain more than a defined minimum of bars.
1. Create a single folder for currency cross pair (ex. 'EURUSD'), then unpack all 'EURUSD' zip files into it.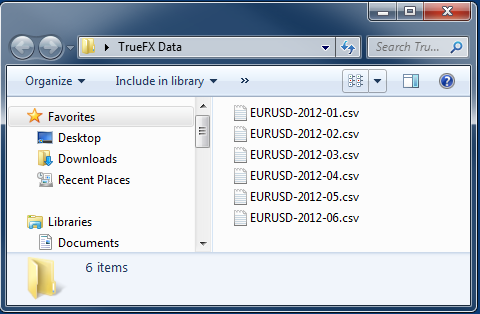 2. Open FSB, go to Maket tab, click 'Import TrueFX Data Files…'
3. Press "Import" button.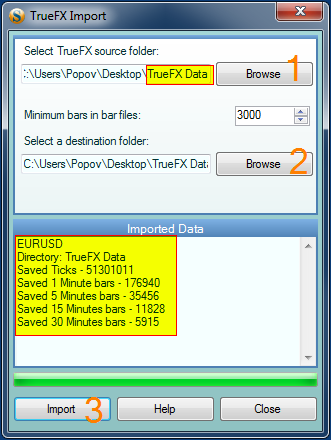 Additionally you can select minimum required number of bars a bar file to be compiled. TrueFX Import saves output files in your working data directory by default and it will overwrite the old data files. If you want, you can choose another destination folder.
After importing the data, you can open Scanner and switch on tick scanning.