Topic: MT4 Strat date of backtest does not match
How can I make a reliable comparison of the EA Studio and MT performance when I cannot set the backtest start date?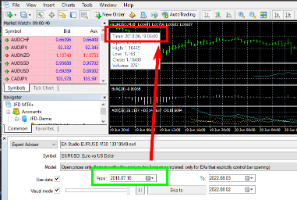 If the chart shows a later date, OK. I'll assume there is no data.
However, what if it shows an earlier date?
I want a perfect backtest match to address users' questions in advance. Now I'm working on a new Generator engine and found a way to make some things better. For example - closing at a bar's Open when a Trailing Stop appears in the gap between the previous Close and the current Open.