Topic: [Weekly updates] USDJPY trading strategy
[August 19-23, 2019] USDJPY trading strategy: waiting signal to SELL
1. Analysis of W1 trend chart
USDJPY chart with W1 frame: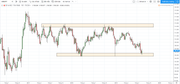 USDJPY market analysis strategy
USDJPY trend on W1 frame is moving sideways in a large range of 104.70 - 114.70.
The current price is at the support of the sideways price.
Observing the W1 candle is not enough to predict a reversal since this week's candle has a closing price lower than the opening price of the previous week's candle.
2. Analysis of chart trends D1
USDJPY chart of D1 frame: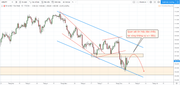 USDJPY market analysis strategy
The trend of USDJPY on D1 frame is a downward trend.
Price broke support at 107.00 and tested again 1 time. However, with the very strong D1 candle on Tuesday, the "inertia" remains and will test the area of 107.00 again.
This is a SELL opportunity on H4.
3. Analyzing points in H4 chart
USDJPY chart H4 frame: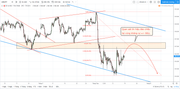 USDJPY market analysis strategy
As mentioned above, we shall wait for USDJPY to rise to the resistance zone, waiting for the reversal signal => SELL.
The good area to watch for the SELL will be the Fibonacci Retracement 50, even the price could sweep to the Fibo 61.8 area.
4. Conclusion
If you do not have USDJPY trading orders:
Wait for a reversal signal at the resistance zone 107.00 - 107.30 => SELL. SL at 108.30, TP at 105.20.
If you have a SELL USDJPY command:
Hold order and set SL, TP as above
If you have a BUY USDJPY command:
Close orders when there is a reversal signal at resistance 107.00 - 107.30. Completion of BUY order may be SELL as above.
Good luck!
I am an architect and professional trader. I own a personal blog about sharing knowledge in Forex trading.
My blog
Sinvest.vn