Topic: Will BTC drop to $ 8500? What do you think?
As predicted, the BTC will drop sharply from the peak of 12,300 and divided into 3 beats.
The decline of 12,300 to 9,600 is the beat 1.
Currently, the price rises (the second beat) to 11,000 and then continues to fall sharply (beat 3) to break the bottom of 9,000.
https://vn.tradingview.com/chart/BTCUSD/dRerzUcV/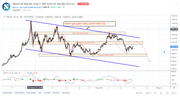 I am an architect and professional trader. I own a personal blog about sharing knowledge in Forex trading.
My blog
Sinvest.vn